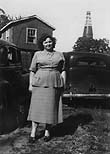 Date: 1947
• W.E. Caldwell Company of Louisville, Kentucky, gets the contract to build a 100,000 gallon water tower for the plant. This will provide 25,000 gallons for plant operations and 75,000 gallons for fire protection. Because the plant will no longer draw water from the city, this tower will allow residents to have full water pressure again.

Date: October 20, 1947
• The minutes recorded from the Collinsville city council meeting of October 20, 1947, show an agreement where the Suppiger Company would get credit toward their water bills for the cost of the new tower. (At this meeting, the agreement was held over a week for public inspection. It may or may not have been approved as noted at some later date.)



Date: August 1949
• Members of the Civil Air Patrol paint an air marker on the roof of the factory warehouse. The marker consists of a huge "Collinsville," a North-south pointing arrow, latitude and longitude figures, and the distance to the nearest airport.

Date: October 1949
• Construction of the "Largest Catsup Bottle In The World" is completed. A 70 ft. 1 in. tall riveted steel tank now sits atop 100 ft. tall legs at the south edge of Collinsville, Illinois. It was constructed by W.E. Caldwell Company (today named Caldwell Tanks) of Louisville, Kentucky, at a cost of $23,926.40.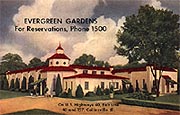 Date: 1952
• The G.S. Suppiger Company moves its general offices from 1530 Hadley in St. Louis to the former Evergreen Gardens resort and casino building on Highway 40 at Route 157 at the base of Bluff Hill in Collinsville.
• Gerhart Schott Suppiger, Jr., son of Gerhart Sr., becomes president of the company.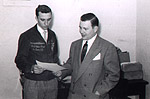 Date: 1952
• Mel Schlemer stopped by the office in January of 2003 and brought us this great old picture that we are thrilled to add to our archives. In it a young Mr. Schlemer presents the Future Farmers of America's 1952 Certificate of Appreciation to Charles Suppiger, V.P. of the G.S. Suppiger Company.

Date: May 30, 1952
• A May 30, 1952 advertisement in the East St. Louis Journal has the headline: "COLLINSVILLE... home of Brooks - America's Largest Selling Tangy Catsup!" The body copy read in part: "...we are mighty pleased with our new general offices in Collinsville... and we hope to become even a greater asset to this community. We are proud to boast Collinsville, Illinois as indeed the home of America's largest selling TANGY catsup." The ad also stated that production lines could fill and cap 350 bottles per minute, and it was possible to take a tomatoes fresh from the field and have a bottle of Brooks catsup in less than three hours.

Date: 1954
• The Catsup Bottle was repainted in 1954 by Pittsburg Tank Company of Pittsburg, Kansas. The company did a great job and used a photo of the Catsup Bottle to promote its work.

Date: 1959
• G.S. Suppiger Company merges with the P.J. Ritter Company, and the Brooks brand name lives on.
• F.Y.I. - In 1959, at the local Collinsville IGA grocery store, you could get 6 12-oz bottles of Brooks catsup for $1.00.
• Note - In 2007, PJ Ritter III sent us a whole bunch of awesome historical company photos. Click here to take a look at them.

Date: 1960


• The Suppiger family sells its share of the company.