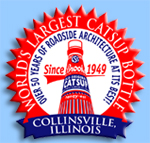 ---














Friday, December 2, 2011

Want some catsup on your Christmas tree?
BY WALLY SPIERS . News-Democrat


Nothing says Yuletide Blessings like some catsup on the tree. Or at least that is what the people at the World's Largest Catsup Bottle Fan Club are hoping.

The support group for the Collinsville landmark on Illinois 159 is selling a Christmas ornament of the bottle, complete with official red ribbon for hanging and a red, gold-stamped box with a commemorative information insert card.

All yours for only $16.50 and proudly made in the U.S.A., said the Big Tomato of the fan club, Mike Gassmann.

It's not the first catsup bottle ornament, but it's the first time the fan club has actually gone all out for one. "We've had three in the past," Gassmann said. "But two were very small production runs and the third one was to benefit Easter Seals. This is the first time we've done it on a large scale."

"Everybody seems to think they are awesome," Gassmann said. "We've already had to restock at Ashmann's (Pharmacy, one of the places selling the ornaments.)"

Ornaments also are available in downtown Collinsville at Dean's Liquor, The Flower Basket and at Cullop-Jennings Florist in downtown Collinsville and at both Walgreen's locations in the city.

The ornaments also are available at the fan club website: www.catsupbottle.com.

The fan club raises money to keep the catsup bottle in good shape for all the people who come to visit. The bottle has gotten a lot of national attention. The tower is on the National Register of Historic Places, was named one of the Top 40 Success Stories by the Illinois Landmarks Association and is in the Illinois Route 66 Hall of Fame.

The water tower was threatened with demolition but was saved and renovated in 1995 by a campaign led by Judy DeMoisy.

The tower is 170 feet tall and was built in 1949 by the W.E. Caldwell Co. for the G.S. Suppiger catsup bottling plant where they made Brooks Catsup.

Despite mysterious allusions by various people, the tower never held any of the catsup.

Merchandise featuring the catsup bottle includes T-shirts, baby clothes, lapel pins, coffee mugs, caps, refrigerator magnets, postcards and coloring and activity books.

It is a great item to market, virally and otherwise.

"We've built an amazing community with people through Facebook. We have more than 11,000 friends," said Gassmann who is always on the lookout for more ketchup (the way the condiment actually is spelled now) related puns.

He promises to ketchup with you later and getting to be the Big Tomato itself is pretty funny.

"It's always fun," he said.




© 2011 Belleville News-Democrat and news service sources. All Rights Reserved.



---