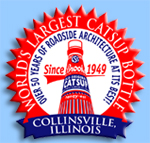 ---














Top 10 Quirky Local Festivals
May 14, 2010. In honor of Mike the Headless Chicken (the chicken that somehow managed to live for an unbelievable 18 months without a head) Fruita, Colorado is hosting its annual festival May 14-15. In celebration of perhaps the strangest occasion for a celebration, TIME takes a look at Headless Mike and other quirky, wacky festivals worldwide. View the entire Top 10 here.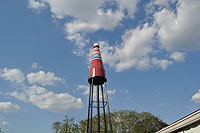 The World's Largest Catsup Bottle Festival (Illinois)
By KAYLA WEBLEY ©2010 Time Inc.
Friday, May 14, 2010
Collinsville, Illinois, is the proud owner of the world's largest bottle of ketchup. The annual Catsup Bottle Festival honors the city's most visible landmark: a 170-ft.-tall water tower that is shaped like...well, you get it. The tower was built in 1949 for the G.S. Suppiger ketchup bottling plant, bottlers of Brooks Rich & Tangy Ketchup. It reads "catsup" after the original Brooks' bottle, hence the name of the festival. The day-long event features a ketchup tasting, a water balloon toss, a hula hoop contest, a hot dog (smothered in ketchup) eating contest and the crowning of a Little Princess Tomato and Sir Catsup contest for the kids. The town also gathers to sing "Happy Birthday" to the beloved water tower and serve up some birthday cake.


It seems Collinsville really likes their condiments. Coincidentally, the town is also the self-proclaimed "Horseradish Capital of the World" and hosts an annual Horseradish Fest. They are said to produce 60% of the world's horseradish.










Some of OUR favorites on the list include Fruita Colorado's Mike the Headless Chicken Festival, the Roswell New Mexico UFO Festival, and

the Coney Island Mermaid Parade in Brooklyn, New York.
---