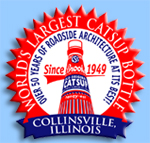 ---















Wednesday, August 15, 2007
Virginia Steffen and her crew from the PBS station, WILL-TV, in Champaign-Urbana, Illinois, paid us a visit today. She is working on a documentary featuring the Catsup Bottle.
It was a lot of fun although we had some sound troubles near 159 so we moved up the hill. Plus, it was really, really HOT!
The best part of the day was that it gave us the chance to see Rod Reinneck again. Rod and his team from Diversified Coatings in O'Fallon, Illinois, restored and repainted the Catsup Bottle back in 1995.
We finally saw the video!
The video appeared on WILL-TV's Prairie Fire program, episode #708 from Thursday, April 24, 2008. Everyone did a great job! We hadn't seen it yet until this week. The 5 minute documentary, with lots of interviews, video footage, and archival photos, is posted on the WILL-TV website. It's must see TeeVee, as far as we're concerned! Take a look right here.














---