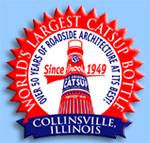 So much to wonder about right here in the Metro East.
By Amanda St. Amand
ST. LOUIS POST-DISPATCH

Sunday, Feb. 18 2007



While the Bureau of Tourism is searching for the Seven Wonders of Illinois, I'm
looking for the Seven Wonders of the Metro East. Those monuments to beauty, to
nature, to pleasure, that enhance our lives and enrich our area.

If you haven't heard, the state's tourism honchos are asking people to nominate
places or attractions worthy of being dubbed our Seven Wonders. Through the
month's end, nominations can be made at www.enjoyillinois.com. The nominees
will come from seven geographical regions, meaning the catsup bottle in
Collinsville won't have to compete with the Shedd Aquarium in Chicago. Once
nominations close, the public will vote online starting March 5. The field will
narrow through the rest of the month, and the wonders will be named on April 30.

State tourism officials said Friday that the first week of nominations brought
in nearly 2,000 suggestions from across the state. Plenty more should pour in.
But why should we worry about the whole state when we can look in our own
backyards? We can find our own Seven Wonders. Some might be considered the
wonders we really love. And some might be considered the wonders we just wonder
about. There could be some overlap between the two.

Let's begin with the Mountain of Trash, also known as the Milam landfill along
Interstate 55-70 near East St. Louis. About 5,000 tons of trash get dumped
there every day, and the peak's highest point reaches 160 feet. Thousands of
commuters drive by it every day, and I'd wager only a few of them realize they
are passing a giant stack of stuff that once filled the garbage cans in our
garages.

There's another mound not far from that one, but it offers real historic value:
Cahokia Mounds, home to the largest ancient American Indian site in the United
States. The problem is that for many Metro Easters, we made our first — and in
some cases our only — trip to Cahokia Mounds when we were studying science in
the fifth grade.

We looked at rocks, rock-shaped tools and really old rocks. Mostly we killed
time until the picnic lunch. We would get far more out of such a field trip as
adults, when we might appreciate learning about what was once a bustling city.
But I don't think my employer, or yours, will be sponsoring a school bus and
box lunch any time soon.

Another trip wasted on school kids is to the locks and dam on the Mississippi
River at Alton. Hundreds of school groups visit the site every year, and a good
many of the kids spit in the river. That's a good time. Learning about locks
and barges and water flow, not so much.

Chances are those kids would pay a little more attention to our next wonder
just north of the locks and dam. How about the Argosy Casino, nee the Alton
Belle, and its eye-popping paint job? If the colors alone don't grab hold of
your brain and give it a shake, a few minutes of the jingling, beeping,
blaring, clinking sounds coming from the slot machines will do the job. None of
the kids would be old enough to go in. If they could, they could see an
up-close lesson on how to throw money down a drain.

Another of our wonders could be the Piasa bird painted on the Mississippi River
bluffs north of Alton. Yeah, the legend is great. Native Americans swore there
was a big, birdlike monster that could grab a deer by its talons but preferred
human flesh. But the real wonder is that people have gone to all the effort to
reach high on the bluffs and carve or paint the bird up there.

I'm sure the catsup bottle in Collinsville will have a solid base of support as
a wonder. But it will be for all the wrong reasons — sort of like William Hung
on "American Idol." He was a bad singer, and everyone agreed on that, but there
was something endearingly unhip about him. It's no wonder, but we wonder why we
love it so.

That's just six, and for a reason. Tell me what area attraction you think
should be one of the Metro East's Wonders, if not one of the wonders for the
whole state. I'll think about it, too, while appreciating the wonders of
another state a bit to the west. I'm off to the Rocky Mountains for a week to
ski.