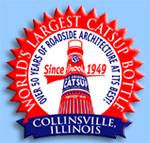 NEWS IN BRIEF


From Tribune News Services and staff reports


Published February 18, 2007





In search of wonders



Sure, Illinois lacks the Hanging Gardens of Babylon, the Pyramids of Giza, or the Colossus of Rhodes.
But it does offer visitors the Garden of the Gods in southern Illinois, the prehistoric archeological remains of Cahokia Mounds, and a 170-foot-tall water tower shaped like a giant ketchup bottle in Collinsville.
Echoing the ancient seven wonders of the world, the Illinois Bureau of Tourism has launched a "Seven Wonders of Illinois" promotion.
Visitors to the www.enjoyillinois.com Web site will be able to make nominations through February, said Jan Kostner, the bureau's deputy director.
Those nominations can be for anything residents and visitors consider wonderful about Illinois--parks and historic sites, statues and museums, cheesy roadside attractions and naturally beautiful scenic spots.
The nominees will be placed in categories for each of seven regions: Chicago, Chicagoland, northern, central, western, southwest and southern.
The public then will be able to participate in online voting for their favorites starting March 5, with the field being narrowed through the rest of the month.
The tourism bureau will announce one winner for each region on April 30, along with themed travel packages and downloadable videos, Kostner said.

---


Nominate your favorite state spot for
Seven Wonders of Illinois

February 18, 2007
BY JENNIFER BURKLOW Staff Reporter

Maybe your favorite destination in this Land of Lincoln is scenic Starved Rock State Park and its beautiful stone lodge near tiny Utica. Or perhaps it's the haunting Cahokia Mounds State Historic Site near Collinsville. Or maybe it's Springfield with all its Lincoln sites, the Superman statue in Metropolis or Millennium Park in Chicago. Whatever your top Illinois stop is, now is the time to click and be counted.
In a bid to bring more people to its Web site and promote local tourism, the Illinois Bureau of Tourism has launched its Seven Wonders of Illinois search and you get to help pick them.
The bureau has divided the state into seven regions: Chicago, Chicagoland, northern, central, western, southwest and southern. Through the end of February, visit www.enjoyillinois.com a and nominate your favorite Illinois destination in any of these regions.
The bureau also wanted to find a way to use the Internet to interact with consumers, Kostner said, and bring them back for repeat Web site visits.
Since launching the search in early February, "The response we're getting is really great," Kostner said. "We're really excited. ... I've gotten a lot of positive feedback."
Beginning March 5, the tourism bureau will post nominated destinations on the Web site. Consumers can vote on the nominees at the site. Each week the field will be narrowed, based on votes, until only two contenders remain in each region. Winnowedlists for each region will be posted every Monday in March and March 30 will be the last day to cast votes. The winning Seven Wonders of Illinois will be announced April 30.
Kostner is hoping that the search will yield lesser-known destinations that will inspire Illinois residents and others to get out and explore the Prairie State. Once the winners are known the tourism bureau will create three-day getaway packages for each to help visitors enjoy the area; the packages will be bookable online.


---


Monday, February 19, 2007
State looking for 'Seven Wonders'

By Cynthia Rolando

Part of what follows is a story about a promotion by the Illinois Tourism Bureau to name the Seven Wonders of Illinois. I wanted to be sure everyone was aware of the promotion because wouldnít it be great to have at least one of our natural wonders listed?
It strictly is an online promotion to nominate and then vote come March 5. But each person can nominate more than one place and the places can be man-made.
The World's Largest Catsup Bottle in Collinsville may be the silliest example of a wonder but it's fun.
Why don't you see what you can come up with in your town? Then go to www.enjoyillinois.com and click on the Wonders of Illinois link on the left-hand side of the page.
If you donít have a computer at home, go to your local library and use theirs for free. Or if you have a laptop computer but no Internet connection, go to the Arby's in La Salle. They have a free wireless Internet connection.


---

Tuesday, February 13, 2007
Seven Wonders of Illinois:
Public asked to choose the best spots in the state

by ashley wiehle, the southern

Early picks to represent the state in the Illinois Bureau of Tourism's "Seven Wonders of Illinois" promotion make one fact clear: Illinois is an eclectic state.
Where else would a natural landmark such as the Garden of the Gods share a list with Collinsville's 170-foot catsup bottle water tower?
The tourism bureau is inviting public input to choose the Seven Wonders of Illinois, and criteria for the choices are lenient. Nominations can be made for anything uniquely Illinois, be it historic sites, museums, scenic spots or roadside attractions.
Jon Musgrave, executive director of the Williamson County Tourism Bureau, said the promotion is an opportunity for state residents to explore the wealth of options the state offers.
"We've definitely got a lot to choose from," Musgrave said.
Nominations will be accepted through February. Choices will then be divided into brackets by region: Chicago, Chicagoland, northern, central, western, southwest and southern.
Early picks state tourism officials have pinpointed include the Dana-Thomas House in Springfield; the Superman statue in Metropolis; Collinsville's giant catsup bottle; the Garden of the Gods; and Cahokia Mounds.

---
Nominate the Catsup Bottle! Click Here!
---